The global aerosol cans market size was estimated to be US$ 9.5 billion in 2019 and is expected to reach US$ 15 billion by 2030 at a CAGR of 4.2%.

Aerosol cans are self-contained containers/dispensers that spray particulates of liquid, mainly in the form of a fine mist, spray or foam. These cans are usually manufactured using materials such as aluminum, steel or plastic, that protect the inner contents from external elements such as light, air, humidity, and damage due to harmful micro-organisms. Furthermore, it is made up of corrosion resistant materials, which protect the content of these cans from deterioration. Commonly used gases for aerosol propellants are carbon dioxide, propane and butane. Aerosol cans are basically a type of packaging product which involves the usage of propellants with the mixture of products or contents of the packaging such as deodorants, coatings, paints that create a suspension of mixture, thus giving rise to aerosol particles in the packaging product. These containers are majorly hand-held, are a popular household item. An example is the commonly used household cleaning sprays, and deodorants.

In comparison to the other forms of packaging, aerosol cans are more convenient to use, are hermetically sealed and have multi-layered laminations. Owing to these factors, they find use in extensive applications across the agriculture, automotive, personal care, pharmaceutical and food and beverage industries. The growing demand for packaging that is user-friendly, promises to be a contributor of major growth for the aerosol cans market, in the near future. Furthermore, the growing adoption of spray paints in the automotive industry for offering protection against accidental abrasions, and personalisation of the vehicles, is also providing a boost to the market growth.

Apart from its primary usage, these aerosol cans are used as a tool for the activities of promotion and advertising, due to their large printable surface area, which provides a 360 degree billboard-like feature for the brands to print their ads on, in a bid to outshine their competition. The aerosol cans provide various options for the printing of graphics, some of which include matte, gloss, matte-gloss, pearlescent, hot stamping, tactile ink and eyeris, which make the product stand out in today's competitive market. The surge in the demand for easy to use, portable products, in the household sprays market, is expected to drive the demand for aerosol cans during the forecast period.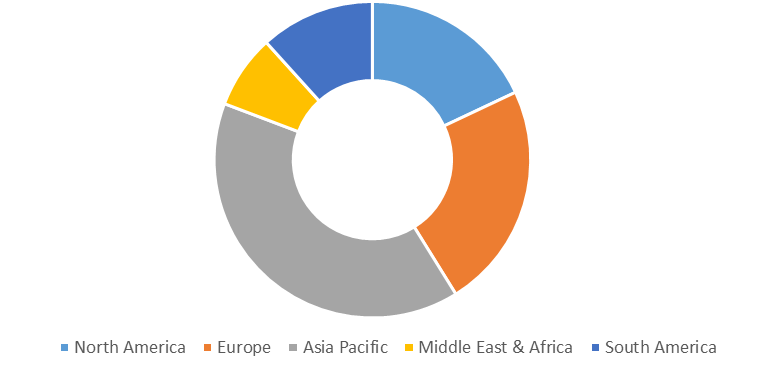 Aerosol Cans Market Value Share Analysis, by Geography (2022)

The report titled "Aerosol Cans Market - Global Market Share, Trends, Analysis and Forecasts, 2023-2032", wherein 2021 is historic period, 2022 is the base year, and 2023 to 2032 is forecast period. Additionally, the study takes into consideration the competitive landscape, wherein the report would provide company overview and market outlook for leading players in the global Aerosol Cans Market. Furthermore, the report would reflect the key developments, global & regional sales network, business strategies, research & development activities, employee strength, and key executive, for all the major players operating in the market.

The global Aerosol Cans Market is segmented on the basis of material type, product type, propellant type, end user sector, and geography. Based on material type is segmented into Aluminum, Steel, Plastic, Others (glass). Based on product type is segmented into Necked-in, Straight wall, Shaped. Based on propellant type is segmented into Liquefied gas propellant, Compressed gas propellant. Based on end user sector is segmented into Personal care, Home care, Healthcare, Automotive, Others (food & beverage). Based on geography is segmented into North America, Europe, Asia Pacific, Middle East & Africa, and South America. North America is sub-segmented into the United States, Canada and Rest of North America. Europe is sub-segmented into Germany, United Kingdom, Belgium, Spain, and Rest of Europe. Asia Pacific is sub-segmented into China, Japan, India, Australia, and Rest of Asia Pacific. Middle East & Africa is sub-segmented into Saudi Arabia, the UAE, and Rest of Middle East & Africa. South America is sub-segmented into Brazil and Rest of South America.

The research provides in-depth analysis of prominent players holding majority share of the global market with a focus on all operating business segment and would identify the segment of the company focusing on Aerosol Cans Market. Further, market share of prominent companies in the global Aerosol Cans Market would also be estimated. The study takes into consideration the key competitive information such as business strategy, product portfolio, key development, swot analysis, and research and development focus of all the Aerosol Cans companies. The global Aerosol Cans Market study would take into consideration the participants engaged throughout the supply chain and value chain of the market, along with their contribution. Product portfolio would focus on all the products under the Aerosol Cans business segment of the company. Similarly, the recent development section would focus on the latest developments of company such as strategic alliances and partnerships, merger and acquisition, new product launched and geographic expansion in the global Aerosol Cans Market.

Major players active in the global Aerosol Cans Market include Kian Joo Can Factory Berhad (Malaysia), Toyo Seikan Group Holdings, Ltd (Japan), CPMC Holdings Ltd (China), CCL Industries (Canada), Shanghai Sunhome Industrial Company (China), Crown Holdings Incorporated (US), Ball Corporation (US), Ardagh Group (Luxembourg), Exal Corporation (US) and Al-Can Exports Pvt Ltd. (India).

Aerosol Cans Pads Market Segmentation:
By Material
Aluminium
Steel-Tinplate
Other Materials
By End-user Vertical
Cosmetic and Personal Care
Household
Pharmaceutical/Veterinary
Paints & Varnishes
Automotive/Industrial
Other End-user Industries
By Region
North America
Europe

Germany
UK
France
Spain
Italy
Rest of Europe

Asia Pacific

Japan
China
India
Australia
Rest of APAC

South America

Brazil
Rest of South America

Middle East & Africa

UAE
South Africa
Saudi Arabia
Rest of MEA