The Global Cryogenic Tanks Market was worth US$ 5.5 billion in 2019 and is expected to witness a CAGR of 4.3% during 2020 and 2030.

Rising demand from food & beverages transportation, increased impetus from transportation of process chemicals and expansion of pharmaceutical industry are the key parameters dynamically shaping the growth of global cryogenic tank market. Cryogenic tanks are used for storage and transportation of natural gases such as argon, nitrogen, helium, liquid oxygen, liquid hydrogen and other liquified gases at correct temperature and pressure.

Built with high efficiency with respect to working pressure, leakage reduction, and automated decompression to enhance safety during transportation, the cryogenic tanks are witnessing continuous upgrade in insulation and coating technology. The demand for cryogenic tanks is primarily driven by increased demand for transportation of liquid gases fueled by expanding chemical, pharmaceutical and food & beverages industries. With rising demand for processed and frozen food, the demand for cryogenic tank market is witnessing increased demand globally. The demand for liquified natural gas (LNG) has increased significantly during past decade, thereby fueling the growth of cryogenic tanks market. The tank manufacturers are engaged in product innovation to cater the increased demand from expanding transportation of liquified gases. However, high cost associated with manufacturing of cryogenic tanks and raw materials is hindering the growth of cryogenic tank market. The global cryogenic tank market is expected to grow steadily during the forecast period.
Asia Pacific contributed a dominating share to the global cryogenic tank market and is anticipated to be a dominating region throughout the forecast period. Strong demand from metal processing and transportation applications, along with strong presence of cryogenic tank manufacturers across the region is anticipated to contribute towards the growth of Asia Pacific cryogenic tanks market during the forecast period. Increased domestic consumption and export to global destinations is anticipated to offer lucrative opportunities to the cryogenic tank manufacturers in coming years. North America contributed a prominent demand fueled by increased consumption of liquid nitrogen and LNG across several end use industries.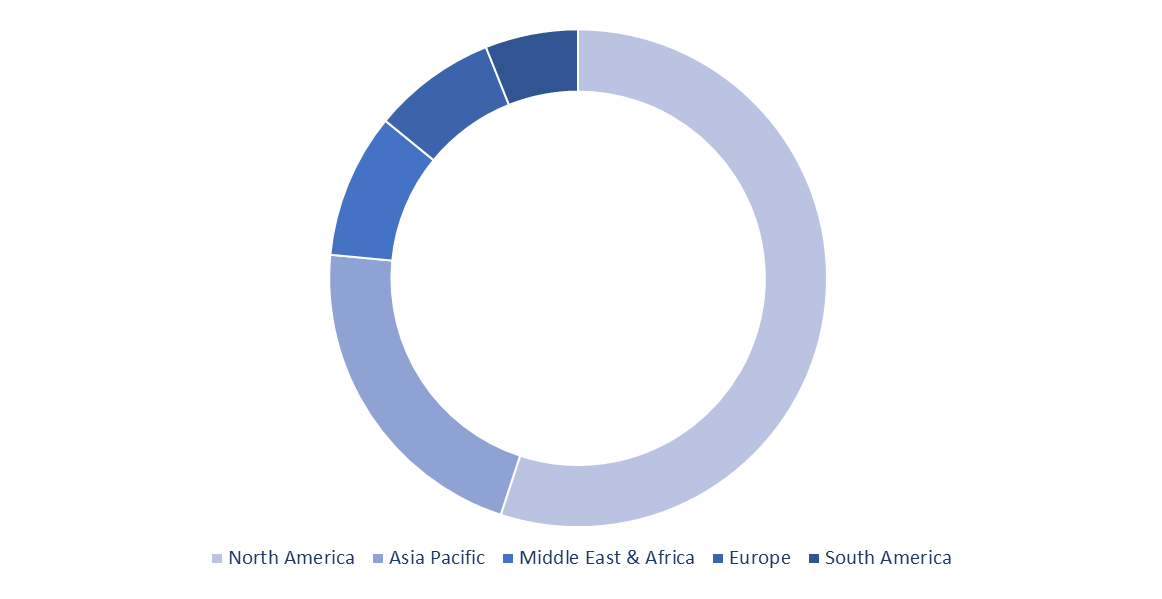 Cryogenic Tanks Market Share Analysis, by Geography (2022)
The report titled "Cryogenic Tanks Market - Global Market Share, Trends, Analysis and Forecasts, 2023-2032" wherein 2021 is historic period, 2022 is the base year, and 2023 to 2032 is forecast period. Additionally, the study takes into consideration the competitive landscape, wherein the report would provide company overview and market outlook for leading players in the global cryogenic tanks market. Furthermore, the report would reflect the key developments, global & regional sales network, business strategies, research & development activities, employee strength, and key executive, for all the major players operating in the market.
The global cryogenic tanks market is segmented on the basis of raw material, cryogenic liquid, application, end use industry, and geography. Based on raw material, the global cryogenic tanks market is segmented into steel, nickel alloy, aluminum alloy, and others. Based on cryogenic liquid, the global cryogenic tank market is segmented into liquid nitrogen, liquefied natural gas (LNG), liquid hydrogen, liquid oxygen, and others. Based on applications, the global cryogenic tanks market is segmented into storage and transportation. Based on end use industry, the global cryogenic tanks market is segmented into semiconductor & electronics, metal & mining, food & beverages, energy & utility, healthcare, chemicals, pharmaceuticals, and others. Based on geography, the global cryogenic tanks market is segmented into North America, Europe, Asia Pacific, Middle East & Africa, and South America.
The research provides in-depth analysis of prominent players holding majority share of the global market with a focus on all operating business segment, and would identify the segment of the company focusing on cryogenic tanks. Further, market share of prominent companies in the global cryogenic tanks market would also be estimated. The study takes into consideration the key competitive information such as business strategy, product portfolio, key development, SWOT analysis, and research and development focus of all the cryogenic tanks companies.
The global cryogenic tanks market study would take into consideration the participants engaged throughout the supply chain of the market, along with their contribution. Product portfolio would focus on all the products under the cryogenic tanks business segment of the company. Similarly, the recent development section would focus on the latest developments of company such as strategic alliances and partnerships, merger and acquisition, new product launched and geographic expansion in the global cryogenic tanks market.
Major players active in the global cryogenic tanks market include Air Liquide, Air Products and Chemicals, Inc., AIR WATER INC., Chart Industries Inc., Cryofab Inc., Cryolor, FIBA Technologies Inc., INOX India Pvt. Ltd., ISISAN A.S, Linde, VRV S.r.l., and Wessington Cryogenics.
Market Segmentation:
By Raw material
steel
nickel alloy
aluminum alloy
others
By Cryogenic liquid
liquid nitrogen
liquefied natural gas (LNG)
liquid hydrogen
liquid oxygen
others
By Application
By End use industry
semiconductor & electronics
metal & mining
food & beverages
energy & utility
healthcare
chemicals
pharmaceuticals
others
By Geography
North America
Europe
Asia Pacific
Middle East & Africa
South America