The global natural food colors market was valued at US$ 1.9 billion in 2020 and is expected to grow at a CAGR of 7.9% through 2032.

Natural Food colors, as the name, suggest originating from sources such as vegetables, fruits, plants, minerals, and other edible food sources. They transmit color when added to any food or drink. They come in different forms such as liquids, gels, pastes, and powders. They are common both for commercial food production and domestic cooking. The natural colors can come from a variety of sources such as seeds, the skin of fruits, or vegetables.

Market Overview
The market is poised for satisfactory growth during the forecast period owing to the rising consumer demand for healthy and natural foods as against processed foods. The consumer inclination towards clean-label products owing to awareness regarding health-conscious products is a top factor driving the sales of the natural food colors market. Significant demand for natural food colors from the industrial sector to enhance the appeal of the products is also one of the prominent factors for the market demand to rise.

Market Drivers
The new-age consumer is aware of the growing health hazards of synthetic colors. One of the primary reasons is the demand for natural food colors products over synthetic ones owing to their several health benefits.
The use of synthetic colors causes a lot of health hazards and the inclination toward environmental-friendly products has been on the rise. Also, the infusion of natural food colors looks attractive and food manufacturers are looking for innovative ways to make use of the same in their products.
Organic or natural food is the one that is manufactured without any synthetic fertilizers, growth hormones, antibiotics, and genetically modified organisms.

Geographical Distribution of the Natural Food Colors Market
The Asia-Pacific market promises lucrative opportunities, with China emerging as the largest exporter in the market. Though it needs to be seen that Europe will occupy significant share in the market of natural food colors, Asia-Pacific will remain in the lead during forecast period. The demand is mainly driven by rising consumer awareness about the hazards of synthetic colors, and the negative side effects of synthetic food colors.
Future government regulations supporting the use of natural food colors are going to further accelerate the demand for natural food colors.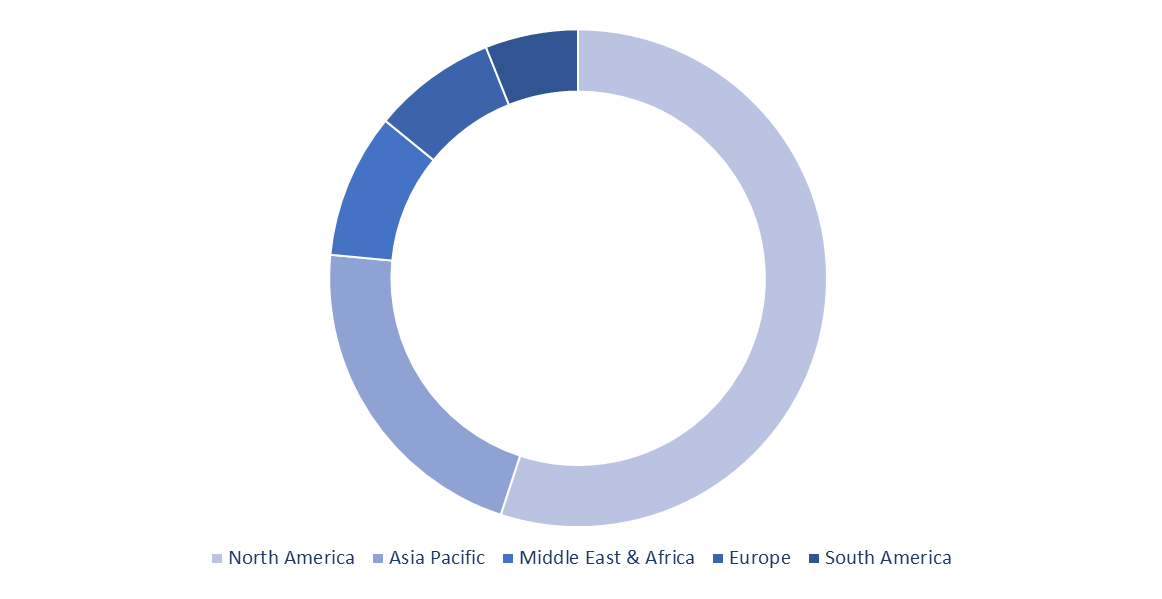 Global Natural Food Colors Market- Share Analysis, by Geography (2022)


The report titled "Global Natural Food Colors Market- Global Market Share, Trends, Analysis and Forecasts, 2023-2032" offers market estimates for a period 2023 to 2032, wherein 2021 is historic period, 2022 is the base year, and 2023 to 2032 is forecast period. Additionally, the study takes into consideration the competitive landscape, wherein the report would provide company overview and market outlook for leading players in the Global Natural Food Colors Market. Furthermore, the report would reflect the key developments, global & regional sales network, business strategies, research & development activities, employee strength, and key executive, for all the major players operating in the market.

Product Type Analysis
Animal sourced food color segment is expected to be the highest in the forecast period. The fastest growth is due to the rising need for animal-sourced food colors as the coloring agent which is used in various food and beverages production.

Application Analysis
Beverages recorded the highest demand among other products in the forecast period and the demand is expected to rise in the forecast period. The beverages segment is also expected to project the highest CAGR during the forecast period. The reason for this is mainly attributed to the ever-growing need for creating an energy-nutrient ratio in the beverages and simultaneously the growing consumer awareness of the harmful effect of artificial colors in the beverages.

The Natural Food Colors Market Report description presents a comprehensive analysis of the market in the forecast period and gives an account of the prominent market players in the industry.

The leading players in this market include CHR Hansen Holding; Sensient Technologies Corporation; FMC Corporation; BASF SE (Germany); Kolorjet Chemicals; IFC Solutions and others.

Market segmentation
By Product Type
Carmine
Anthocyanins
Caramel
Annatto
Animal sourced food color segment
Beta Carotene
By Application type
Confectionery
Dairy Products
Savory Products
Frozen Products
Others
By Geography
North America

United States
Canada
Rest of North America

Europe

Germany
United Kingdom
Italy
France
Spain
Rest of Europe

Asia Pacific

Japan
India
China
Australia
Rest of Asia Pacific

Middle East & Africa

UAE
Saudi Arabia
South Africa
Rest of the Middle East & Africa

South America

Brazil
Rest of South America
Introduction

Research Objectives
Report Assumptions
Research Methodology
Abbreviations

Preface

Market Definition
Report Scope and Market Segmentation
Research Highlights

Market Synopsis: Global Natural Food Colors Market
Global Natural Food Colors Market Qualitative Analysis

Trends

Market trends
Technology Trends

PESTEL Analysis (For 3 prominent countries)
Market Influencers

Driving Forces
Hindering Forces
Opportunities

COVID-19 impact

Global Natural Food Colors Market Analysis and Forecast, by Ingredient

Overview and definitions
Key segment analysis
Global Natural Food Colors Market Size Estimates (US$ Mn), by Ingredient, 2019 – 2032

Beetroot
Spinach
Apple
Carrot
Spirulina
Grape
Black Carrot
Hibiscus
Aronia
Carthamus
Others
Global Natural Food Colors Market Analysis and Forecast, by Shade

Overview and definitions
Key segment analysis
Global Natural Food Colors Market Size Estimates (US$ Mn and Tons), by Shade, 2019 – 2032

Green
Yellow
Blue
Red
Orange
Purple
Others
Global Natural Food Colors Market Analysis and Forecast, by Region

Overview and definitions
Key segment analysis
Global Natural Food Colors Market Size Estimates (US$ Mn), by Region, 2019 – 2032

North America
Europe
Asia Pacific
Middle East & Africa
South America
North America Natural Food Colors Market Analysis and Forecast

Overview and definitions
Key segment analysis
North America Natural Food Colors Market Size Estimates (US$ Mn), by Ingredient, 2019 – 2032

Beetroot
Spinach
Apple
Carrot
Spirulina
Grape
Black Carrot
Hibiscus
Aronia
Carthamus
Others

North America Natural Food Colors Market Size Estimates (US$ Mn and Tons), by Shade, 2019 – 2032

Green
Yellow
Blue
Red
Orange
Purple
Others

North America Natural Food Colors Market Size Estimates (US$ Mn), Country, 2019 – 2032

United States
Canada
Mexico
Rest of North America
Europe Natural Food Colors Market Analysis and Forecast

Overview and definitions
Key segment analysis
Europe Natural Food Colors Market Size Estimates (US$ Mn), by Ingredient, 2019 – 2032

Beetroot
Spinach
Apple
Carrot
Spirulina
Grape
Black Carrot
Hibiscus
Aronia
Carthamus
Others

Europe Natural Food Colors Market Size Estimates (US$ Mn and Tons), by Shade, 2019 – 2032

Green
Yellow
Blue
Red
Orange
Purple
Others

Europe Natural Food Colors Market Size Estimates (US$ Mn), Country, 2019 – 2032

Germany
United Kingdom
Italy
France
Spain
Rest of Europe
Asia Pacific Natural Food Colors Market Analysis and Forecast

Overview and definitions
Key segment analysis
Asia Pacific Natural Food Colors Market Size Estimates (US$ Mn), by Ingredient, 2019 – 2032

Beetroot
Spinach
Apple
Carrot
Spirulina
Grape
Black Carrot
Hibiscus
Aronia
Carthamus
Others

Asia Pacific Natural Food Colors Market Size Estimates (US$ Mn and Tons), by Shade, 2019 – 2032

Green
Yellow
Blue
Red
Orange
Purple
Others

Asia Pacific Natural Food Colors Market Size Estimates (US$ Mn), Country, 2019 – 2032

Japan
India
China
South Korea
Australia
Rest of Asia Pacific
Middle East & Africa Natural Food Colors Market Analysis and Forecast

Overview and definitions
Key segment analysis
Middle East & Africa Natural Food Colors Market Size Estimates (US$ Mn), by Ingredient, 2019 – 2032

Beetroot
Spinach
Apple
Carrot
Spirulina
Grape
Black Carrot
Hibiscus
Aronia
Carthamus
Others

Middle East & Africa Natural Food Colors Market Size Estimates (US$ Mn and Tons), by Shade, 2019 – 2032

Green
Yellow
Blue
Red
Orange
Purple
Others

Middle East & Africa Natural Food Colors Market Size Estimates (US$ Mn), Country, 2019 – 2032

Saudi Arabia
South Africa
UAE
Rest of Middle East
South America Natural Food Colors Market Analysis and Forecast

Overview and definitions
Key segment analysis
South America Natural Food Colors Market Size Estimates (US$ Mn), by Ingredient, 2019 – 2032

Beetroot
Spinach
Apple
Carrot
Spirulina
Grape
Black Carrot
Hibiscus
Aronia
Carthamus
Others

South America Natural Food Colors Market Size Estimates (US$ Mn and Tons), by Shade, 2019 – 2032

Green
Yellow
Blue
Red
Orange
Purple
Others

South America Natural Food Colors Market Size Estimates (US$ Mn), Country, 2019 – 2032

Brazil
Rest of South America
Competition Analysis – Natural Food Colors Market

Market Composition
Market Share Analysis (%), by Supplier (2022)
List of Herbal Extract Buyers
Company Profiles

Hansen Holding A / S

Business overview
Geographic presence
Financial facts
Relevant news and strategic view

D. Williamson
Sensient Colors LLC
Döhler GmbH
Symrise AG
ROHA Dyechem Pvt. Ltd. (JJT Group)
Kalsec Inc.
DDW The Color House Corporation
Naturex S.A.
FMC Corporation
San-Ei Gen F.F.I Inc.
GNT Group B.V.
Archer Daniels Midland
AFIS (Australian Food Ingredient Suppliers)
Conclusion & Recommendations