The plastic compounding composes of, fusing additives and admixtures into the base resin, with an objective of alteration of original properties, of the base material. Additives, admixtures, and fillers are used for making plastics lightweight. Making them fitting for the practicable requirement of automotive manufacturers. The call for plastic compound products is rising owing to the various industrial applications. Benefits such as easy molding, and the competence to form complex detailed designs.

Traditional materials like metal or glass lack these advantages when production cost is dealt with. The plastic compounding market has adapted seamlessly to the concept of environmental friendliness, in the past few years.

Plastic compounding has few steps such as determining additives ratio, rapid mixing with the help of twin-screw extruders, melt mixing, and cooling, before final pellet cutting and packaging of the product. Compounded plastics has been employed in an enormous amount in the automotive industry, electrical and electronics industry, industrial sector, consumer goods, and medical systems owing to their specific occupational properties of the products.

The utilization of plastic-based products on large scale globally in discrete sectors, as compared to metals and alloys in automotive components, has been a major factor for the plastic compounding market growth. The huge cost of production in extension to unfavorable conditions like the global COVID-19 outbreak seems to be a hindering factor for the growth of the Plastic compounding market worldwide.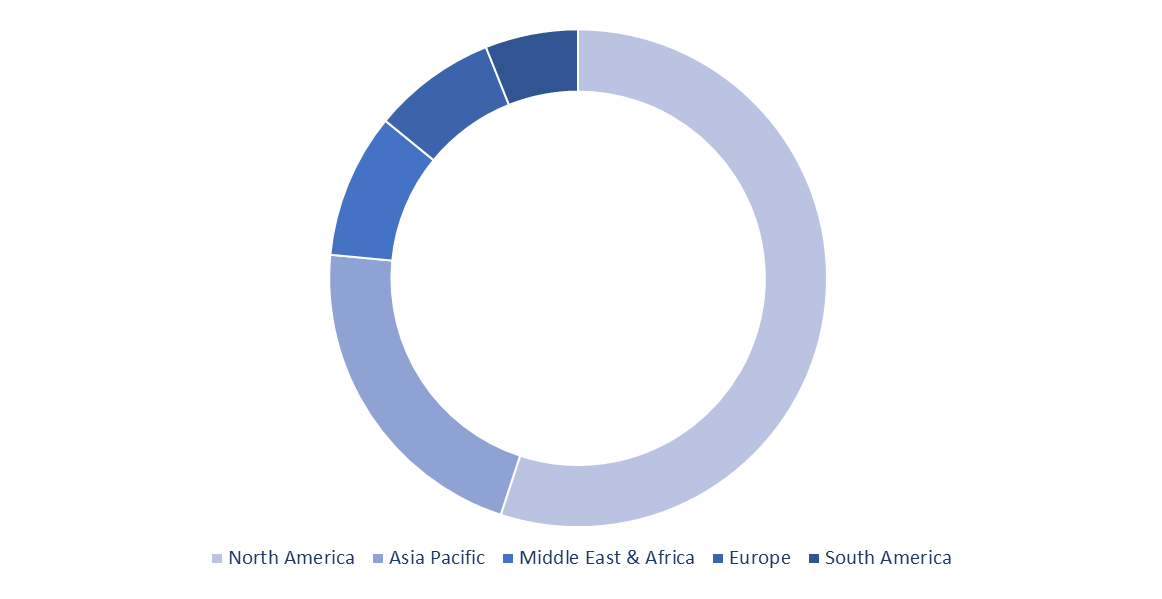 Plastic Compounding Market Value Share Analysis, by Geography (2021)


The report titled "Plastic Compounding Market - Global Market Share, Trends, Analysis and Forecasts, 2022-2032" wherein 2020 is historic period, 2021 is the base year, and 2022 to 2032 is forecast period. Additionally, the study takes into consideration the competitive landscape, wherein the report would provide company overview and market outlook for leading players in the global Plastic Compounding Market. Furthermore, the report would reflect the key developments, global & regional sales network, business strategies, research & development activities, employee strength, and key executive, for all the major players operating in the market.

The global plastic compounding market is segmented based on polymer type, end use, and region. Depending on polymer type, the market is classified into polypropylene (PP), polyethylene (PE), polyvinyl chloride (PVC), polystyrene (PS) and expanded polystyrene (EPS), polyethylene terephthalate (PET), polyurethane (PU), acrylonitrile butadiene styrene (ABS), and other polymers. As per end use, it is segregated into automotive, building & construction, packaging, electrical & electronics, medical, and others. Based on geography, the global Plastic Compounding Market is segmented into North America, Europe, Asia Pacific, Middle East & Africa, and South America. North America is sub-segmented into the United States, Canada, and Rest of North America. Europe is sub-segmented into Germany, United Kingdom, Italy, France, Spain, and Rest of Europe. Asia Pacific is sub-segmented into China, Japan, India, Australia, and Rest of Asia Pacific. Middle East & Africa is sub-segmented into Saudi Arabia, UAE, South Africa, and Rest of Middle East & Africa. South America is sub-segmented into Brazil and Rest of South America.

The research provides in-depth analysis of prominent players holding majority share of the global market with a focus on all operating business segment and would identify the segment of the company focusing on Plastic Compounding Market . Further, market share of prominent companies in the global Plastic Compounding Market would also be estimated.

The study takes into consideration the key competitive information such as business strategy, product portfolio, key development, swot analysis, and research and development focus of all the Plastic Compounding companies. The global Plastic Compounding Market study would take into consideration the participants engaged throughout the supply chain and value chain of the market, along with their contribution. Product portfolio would focus on all the products under the Plastic Compounding business segment of the company. Similarly, the recent development section would focus on the latest developments of company such as strategic alliances and partnerships, merger and acquisition, new product launched and geographic expansion in the global plastic compounding market.

Key player companies in plastic compounding market are Asahi Kasei Corporation, Teknor Apex, Celanese Corporation, Sojitz Corporation, Coperion GmbH, LyondellBasell Industries Holdings B.V., RTP Company.

Global Plastic Compounding Market Segmentation:
By Product
Polyethylene (PE)
Polypropylene (PP)
Thermoplastic Vulcanizates (TPV)
Thermoplastic Polyolefins (TPO)
Polyvinyl Chloride (PVC)
Polystyrene (PS)
Polyethylene Terephthalate (PET)
Poly-butylene Terephthalate (PBT)
Polyamide (PA)
Polycarbonate (PC)
Acrylonitrile Butadiene Systems (ABS)
Others
By Application
Automotive
Building & Construction
Electrical & Electronics
Packaging
Consumer Goods
Industrial Machinery
Medical Devices
Optical Media
Others
By Regional
North America

The U.S
Canada
Mexico
Rest of North America

Europe

Germany
The U.K.
France
Italy
Spain
Rest of Europe

Asia Pacific

China
India
Japan
South Korea
Australia
Rest of APAC

South America

Brazil
Rest of South America

Middle East and Africa

Saudi Arabia
UAE
South Africa
Rest of MEA