The Global Brain Computer Interface Market size was estimated to be US$ 1.4 billion in 2019 and is expected to grow at a CAGR of 13% through 2030.
A brain-computer interface (BCI) is a computer-based software package that obtains, examines, and transforms brain signals into commands transmitted to an output device to execute the preferred action. BCI is a unidirectional communication system that allows control of devices through brain signals.
BCI acts as a communication network between the computer system and the human brain. BCI is used to convert the human brain intents into a control signal, used in several applications, comprising healthcare, entertainment, and robotics. For instance, a communication system with global brain-computer interface technology enables disabled people to communicate with outside environments and interact with other people without the necessity for muscular or peripheral neural action.
Growing frequency of neurodegenerative diseases like Alzheimer's, Parkinson's and epilepsy are anticipated to propel the demand for BCI devices in the course of evaluation period. As stated by a World Health Organization statistic, around 82 Million people will be affected by dementia by 2030 and this would reach 152 Million by the year 2050. This specifies the prospective demand for BCI devices in the imminent years.
North America led the BCI market in 2019 with about 42.3 percent market share. The highest share is attributable to the growing occurrences of neurodegenerative diseases such as Huntington's disease, Alzheimer's, and Parkinson's coupled with the increasing popularity of virtual gaming. Furthermore, increasing research and development investments and a huge number of clinical trials being carried out on BCI devices are also boosting the market growth.
The APAC region is anticipated to record the uppermost growth rate in the course of the assessment timeframe. Considerable existing opportunities, rising healthcare expenses, and budding consciousness among patients are estimated to impel the demand for BCI gadgets. Furthermore, reasonable manufacturing locations and encouraging tax system programs in this region have lured foreign corporations to spend in this beneficial market.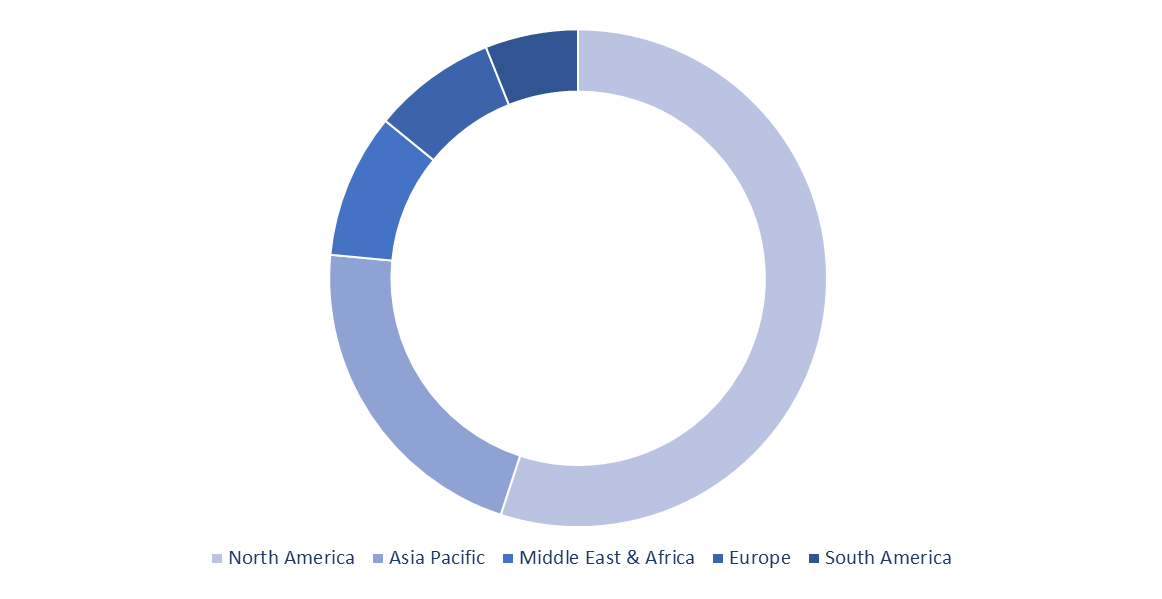 Brain Computer Interface Market Share Analysis, by Geography (2022)


The report titled "Brain Computer Interface Market - Global Market Share, Trends, Analysis and Forecasts, 2023-2032" wherein 2021 is historic period, 2022 is the base year, and 2023 to 2032 is forecast period. Additionally, the study takes into consideration the competitive landscape, wherein the report would provide company overview and market outlook for leading players in the global brain computer interface market.
Furthermore, the report would reflect the key developments, global & regional sales network, business strategies, research & development activities, employee strength, and key executive, for all the major players operating in the market.
The global brain computer interface market is segmented depending on product, end-users, application and geography. By product, the BCI market consist of invasive, non-invasive, partially invasive, and others. The brain computer interface market on the basis of application is divided into Healthcare (Disabilities Restoration, Brain Function Repair), Smart Home Control, Communication and Control, Entertainment and Gaming. Based on geography, the global brain computer interface market is segmented into North America, Europe, Asia Pacific, Middle East & Africa, and South America. North America is sub-segmented into the United States, Canada and Rest of North America. Europe is sub-segmented into Germany, United Kingdom, Belgium, Spain, and Rest of Europe. Asia Pacific is sub-segmented into China, Japan, India, Indonesia, Australia, Taiwan, South Korea, and Rest of Asia Pacific. Middle East & Africa is sub-segmented into Saudi Arabia, the UAE, and Rest of Middle East & Africa. South America is sub-segmented into Brazil and Rest of South America.
The research provides in-depth analysis of prominent players holding majority share of the global market with a focus on all operating business segment and would identify the segment of the company focusing on brain computer interface. Further, market share of prominent companies in the global brain computer interface market would also be estimated.
The study takes into consideration the key competitive information such as business strategy, product portfolio, key development, swot analysis, and research and development focus of all the major companies. The global brain computer interface market study would take into consideration the participants engaged throughout the supply chain and value chain of the market, along with their contribution.
Product portfolio would focus on all the products under the BCI business segment of the company. Similarly, the recent development section would focus on the latest developments of company such as strategic alliances and partnerships, merger and acquisition, new product launched and geographic expansion in the global brain computer interface market.
Major players active in the global brain computer interface market consist of NeuroSky, MindMaze, EMOTIV Inc., OpenBCI, ANT Neuro, Artinis Medical Systems, Advanced Brain Monitoring, Inc., G.TEC MEDICAL ENGINEERING GMBH, Cadwell Industries, Inc., Natus Medical Incorporated, NIHON KOHDEN CORPORATION, and Mind Solutions Inc.
Global Brain Computer Interface Market Segmentation:
By Product:
Invasive
Non-invasive
Partially Invasive
Others
By Application:
Healthcare

Disabilities Restoration
Brain Function Repair

Smart Home Control
Communication and Control
Entertainment and Gaming
By Geography:
North America

United States
Canada
Rest of North America

Europe

Germany
United Kingdom
Italy
France
Spain
Rest of Europe

Asia Pacific


Japan
India
China
Australia
South Korea
Rest of Asia Pacific

Middle East & Africa

UAE
Saudi Arabia
South Africa
Rest of the Middle East & Africa

South America

Brazil
Rest of South America