In-Vehicle Infotainment System Market Size, Share, Sales, Analysis, Forecast By Form (Embedded, Tethered, And Integrated), By Component (Display Unit/ Infotainment Unit, Control Panel, Telematics Control Unit, Head-Up Display, And Others), By Location (Front Row and Rear Rows), By Operating System (Linux, QNX, Windows, and Others), By Vehicle Type (Passenger Vehicle and Commercial Vehicle), By Sales Channel (OEM and Aftermarket), Industry Competition & Player Profiles, 2023 – 2032
The Global In-Vehicle Infotainment System Market size was estimated to be US$ 23 billion in 2019 and the expected CAGR through 2030 is 9%. Rising investment in development of advanced in-vehicle infotainment system systems, proliferation of advanced communication technologies, and emergence of 5G technology are the key attributes governing the growth of the global in-vehicle infotainment system market. In-vehicle infotainment systems are integrated entertainment and information delivery systems used for assisting and informing driver and entertaining passengers. Infotainment systems range from basic radio and CD players to advanced technology enabled interactive units. Earlier vehicles were equipped with basic radio communication unit to facilitate entertainment and basic information delivery through radio channels. Advancement in technology has changed the dynamics of onboard vehicles systems.

The automobile manufacturers are focusing on equipping upcoming vehicles with advanced and interactive infotainment systems for better connectivity and improved delivery of information. Integration of advanced controllers and emergence of automobile operating systems or platforms has contributed significantly towards the evolution of in-vehicle infotainment systems.

Integration of Intel's Atom processor and Microsoft Corporations' Embedded Automotive & platform has helped automobile manufactures to incorporate advanced features into vehicles and infotainment system developers with technology enablement into products. All the automobiles delivered to the market are being equipped with some sort of in-vehicle infotainment systems based on the vehicle type and price range, thereby fueling the growth of global in-vehicle infotainment system market.

However, due to the existing COVID-19 pandemic, the manufacturing of automobiles and automotive components has been disrupted. Additionally, changing consumer buying behavior due to uncertainties posed by COVID-19 is anticipated to impact the growth of market. Emergence of V2X communication technology and increased investment on automotive systems for improved driver safety is expected to expedite the growth of in-vehicle infotainment system market during the forecast period.

Asia Pacific contributed the largest share to the global in-vehicle infotainment system market in 2019 and is anticipated to be a dominating region throughout the forecast period. Increased demand for vehicles equipped with advanced entertainment, information and communication systems across emerging countries is contributing towards the growth of the Asia Pacific in-vehicle infotainment systems market during the forecast period. North America contributed a significant share to the global in-vehicle infotainment system market in 2019 owing to rising demand for luxury vehicles fueled by availability of easy finance options and presence of leading luxury vehicle manufacturers across the United States and Canada.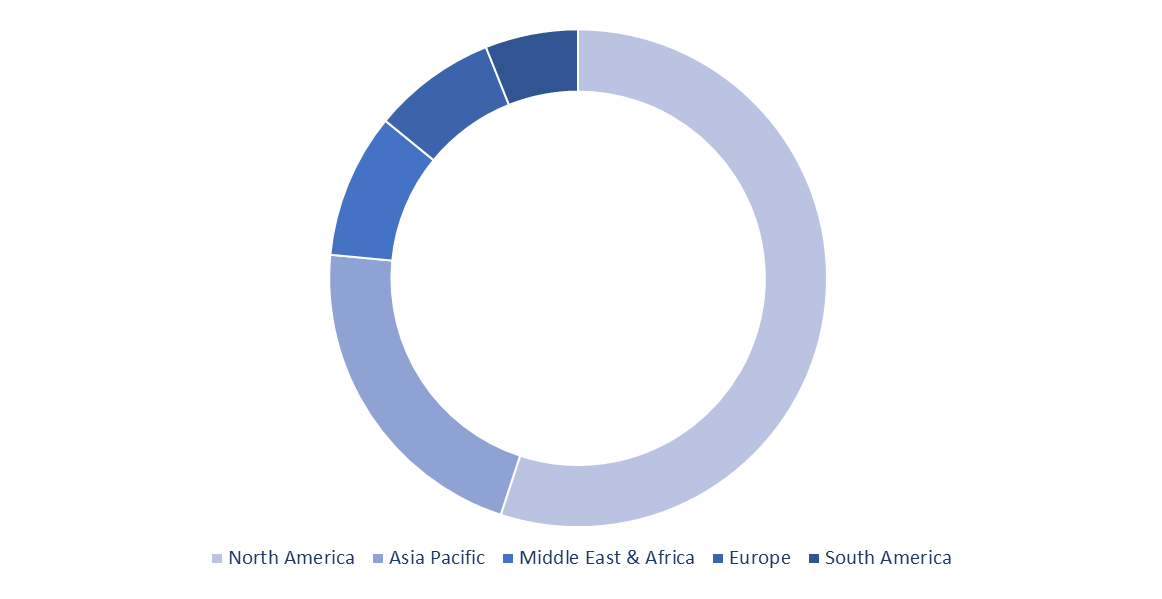 In-vehicle infotainment system Market Share Analysis, by Geography (2022)

The report titled "In-Vehicle Infotainment System Market - Global Market Share, Trends, Analysis and Forecasts, 2023-2032" wherein 2021 is historic period, 2022 is the base year, and 2023 to 2032 is forecast period. Additionally, the study takes into consideration the competitive landscape, wherein the report would provide company overview and market outlook for leading players in the global In-vehicle infotainment system market. Furthermore, the report would reflect the key developments, global & regional sales network, business strategies, research & development activities, employee strength, and key executive, for all the major players operating in the market.

The global in-vehicle infotainment system market is segmented on the basis of form, component, location, vehicle type, operating system, sales channel, and geography. Based on form, the global in-vehicle infotainment system market is segmented into embedded, tethered, and integrated. Based on component, the global in-vehicle infotainment system market is segmented into display unit/ infotainment unit, control panel, telematics control unit, head-up display, and others. Based on location, the global in-vehicle infotainment system market is segmented into front row and rear rows. Based on operating system, the global in-vehicle infotainment system market is segmented into Linux, QNX, Microsoft, and others. Based on vehicle type, the global in-vehicle infotainment system market is segmented into passenger vehicle and commercial vehicle. The commercial vehicle segment is further sub-segmented into light commercial vehicles and heavy commercial vehicles. Based on sales channel, the global in-vehicle infotainment system market is segmented into OEM and aftermarket. Based on geography, the global in-vehicle infotainment system market is segmented into North America, Europe, Asia Pacific, Middle East & Africa, and South America.

The research provides in-depth analysis of prominent players holding majority share of the global market with a focus on all operating business segment and would identify the segment of the company focusing on in-vehicle infotainment system. Further, market share of prominent companies in the global in-vehicle infotainment system market would also be estimated. The study takes into consideration the key competitive information such as business strategy, product portfolio, key development, SWOT analysis, and research and development focus of all the in-vehicle infotainment system companies.

The global in-vehicle infotainment system market study would take into consideration the participants engaged throughout the ecosystem of the market, along with their contribution. Product portfolio would focus on all the products under the in-vehicle infotainment system business segment of the company. Similarly, the recent development section would focus on the latest developments of company such as strategic alliances and partnerships, merger and acquisition, new product launched and geographic expansion in the global in-vehicle infotainment system market.

Major players active in the global in-vehicle infotainment system market include Aisin Seiki Co. Ltd., Alpine Electronics, Inc., Aptiv Plc, Audi AG, BMW AG, Clarion, DENSO CORPORATION, Fujitsu Limited, Garmin Ltd., HARMAN International, Hyundai Mobis, Marelli Holdings Co., Ltd., Mitsubishi Electric Corporation, Panasonic Corporation, Pioneer Corporation, Robert Bosch GmbH, and TomTom International BV.

The In-Vehicle Infotainment System Market is Segmented as Below:
By Form
Embedded
Tethered
Integrated
By Component
Display unit/ infotainment unit
Control panel
Telematics Control Unit
Others
By Location
By Operating System
By Vehicle Type
Passenger vehicle
Commercial vehicle

Light commercial vehicles
Heavy commercial vehicles
By Sales Channel
By Geography
North America

United States
Canada
Rest of North America

Europe

Germany
United Kingdom
Belgium
Spain
Rest of Europe

Asia Pacific

Japan
India
China
Australia
Rest of Asia Pacific

Middle East & Africa

UAE
Saudi Arabia
Rest of Middle East & Africa

South America

Brazil
Rest of South America
Introduction

Research Objectives
Report Assumptions
Research Methodology
Abbreviations

Preface

Market Definition
Report Scope and Market Segmentation
Research Highlights

Market Synopsis: Global In-Vehicle Infotainment System Market
Global In-Vehicle Infotainment System Market Qualitative Analysis

Trends

Market trends
Technology Trends

PESTLE Analysis (For 5 prominent countries)
Market Influencers

Driving Forces
Hindering Forces
Opportunities

Technology Innovations in Display Unit Technology

Global In-Vehicle Infotainment System Market Analysis and Forecast, by Form

Overview and definitions
Key segment analysis
Global In-Vehicle Infotainment System Market Estimates (US$ Mn), by Form, 2019 – 2032

Embedded
Tethered
Integrated
Global In-Vehicle Infotainment System Market Analysis and Forecast, by Component

Overview and definitions
Key segment analysis
Global In-Vehicle Infotainment System Market Estimates (US$ Mn), by Component, 2019 – 2032

Display unit/ infotainment unit
Control panel
Telematics control unit
Head-up display
Others
Global In-Vehicle Infotainment System Market Analysis and Forecast, by Location

Overview and definitions
Key segment analysis
Global In-Vehicle Infotainment System Market Estimates (US$ Mn), by Location, 2019 – 2032
Global In-Vehicle Infotainment System Market Analysis and Forecast, by Operating System

Overview and definitions
Key segment analysis
Global In-Vehicle Infotainment System Market Estimates (US$ Mn), by Operating System, 2019 – 2032

Linux
QNX
Microsoft
Others
Global In-Vehicle Infotainment System Market Analysis and Forecast, by Vehicle Type

Overview and definitions
Key segment analysis
Global In-Vehicle Infotainment System Market Estimates (US$ Mn), by Vehicle Type, 2019 – 2032

Passenger vehicle
Commercial vehicle

Light commercial vehicles
Heavy commercial vehicles
Global In-Vehicle Infotainment System Market Analysis and Forecast, by Sales Channel

Overview and definitions
Key segment analysis
Global In-Vehicle Infotainment System Market Estimates (US$ Mn), by Sales Channel, 2019 – 2032
Global In-Vehicle Infotainment System Market Analysis and Forecast, by Region

Overview and definitions
Key segment analysis
Global In-Vehicle Infotainment System Market Estimates (US$ Mn), by Region, 2019 – 2032

North America
Europe
Asia Pacific
Middle East & Africa
South America
North America In-Vehicle Infotainment System Market Analysis and Forecast

Overview and definitions
Key segment analysis
North America In-Vehicle Infotainment System Market Estimates (US$ Mn), by Form, 2019 – 2032

Embedded
Tethered
Integrated

North America In-Vehicle Infotainment System Market Estimates (US$ Mn), by Component, 2019 – 2032

Display unit/ infotainment unit
Control panel
Telematics control unit
Head-up display
Others

North America In-Vehicle Infotainment System Market Estimates (US$ Mn), by Location, 2019 – 2032
North America In-Vehicle Infotainment System Market Estimates (US$ Mn), by Vehicle Type, 2019 – 2032

Passenger vehicle
Commercial vehicle

Light commercial vehicles
Heavy commercial vehicles

North America In-Vehicle Infotainment System Market Estimates (US$ Mn), by Sales Channel, 2019 – 2032
North America In-Vehicle Infotainment System Market Estimates (US$ Mn), Country, 2019 – 2032

The U.S.
Canada
Rest of North America
Europe In-Vehicle Infotainment System Market Analysis and Forecast

Overview and definitions
Key segment analysis
Europe In-Vehicle Infotainment System Market Estimates (US$ Mn), by Form, 2019 – 2032

Embedded
Tethered
Integrated

Europe In-Vehicle Infotainment System Market Estimates (US$ Mn), by Component, 2019 – 2032

Display unit/ infotainment unit
Control panel
Telematics control unit
Head-up display
Others

Europe In-Vehicle Infotainment System Market Estimates (US$ Mn), by Location, 2019 – 2032
Europe In-Vehicle Infotainment System Market Estimates (US$ Mn), by Vehicle Type, 2019 – 2032

Passenger vehicle
Commercial vehicle

Light commercial vehicles
Heavy commercial vehicles

Europe In-Vehicle Infotainment System Market Estimates (US$ Mn), by Sales Channel, 2019 – 2032
Europe In-Vehicle Infotainment System Market Estimates (US$ Mn), Country, 2019 – 2032

Germany
United Kingdom
Italy
France
Spain
Rest of Europe
Asia Pacific In-Vehicle Infotainment System Market Analysis and Forecast

Overview and definitions
Key segment analysis
Asia Pacific In-Vehicle Infotainment System Market Estimates (US$ Mn), by Form, 2019 – 2032

Embedded
Tethered
Integrated

Asia Pacific In-Vehicle Infotainment System Market Estimates (US$ Mn), by Component, 2019 – 2032

Display unit/ infotainment unit
Control panel
Telematics control unit
Head-up display
Others

Asia Pacific In-Vehicle Infotainment System Market Estimates (US$ Mn), by Location, 2019 – 2032
Asia Pacific In-Vehicle Infotainment System Market Estimates (US$ Mn), by Vehicle Type, 2019 – 2032

Passenger vehicle
Commercial vehicle

Light commercial vehicles
Heavy commercial vehicles

Asia Pacific In-Vehicle Infotainment System Market Estimates (US$ Mn), by Sales Channel, 2019 – 2032
Asia Pacific In-Vehicle Infotainment System Market Estimates (US$ Mn), Country, 2019 – 2032

Japan
India
China
South Korea
Australia
Rest of Asia Pacific
Middle East & Africa In-Vehicle Infotainment System Market Analysis and Forecast

Overview and definitions
Key segment analysis
Middle East & Africa In-Vehicle Infotainment System Market Estimates (US$ Mn), by Form, 2019 – 2032

Embedded
Tethered
Integrated

Middle East & Africa In-Vehicle Infotainment System Market Estimates (US$ Mn), by Component, 2019 – 2032

Display unit/ infotainment unit
Control panel
Telematics control unit
Head-up display
Others

Middle East & Africa In-Vehicle Infotainment System Market Estimates (US$ Mn), by Location, 2019 – 2032
Middle East & Africa In-Vehicle Infotainment System Market Estimates (US$ Mn), by Vehicle Type, 2019 – 2032

Passenger vehicle
Commercial vehicle

Light commercial vehicles
Heavy commercial vehicles

Middle East & Africa In-Vehicle Infotainment System Market Estimates (US$ Mn), by Sales Channel, 2019 – 2032
Middle East & Africa In-Vehicle Infotainment System Market Estimates (US$ Mn), Country, 2019 – 2032

Saudi Arabia
UAE
South Africa
Rest of Middle East
South America In-Vehicle Infotainment System Market Analysis and Forecast

Overview and definitions
Key segment analysis
South America In-Vehicle Infotainment System Market Estimates (US$ Mn), by Form, 2019 – 2032

Embedded
Tethered
Integrated

South America In-Vehicle Infotainment System Market Estimates (US$ Mn), by Component, 2019 – 2032

Display unit/ infotainment unit
Control panel
Telematics control unit
Head-up display
Others

South America In-Vehicle Infotainment System Market Estimates (US$ Mn), by Location, 2019 – 2032
South America In-Vehicle Infotainment System Market Estimates (US$ Mn), by Vehicle Type, 2019 – 2032

Passenger vehicle
Commercial vehicle

Light commercial vehicles
Heavy commercial vehicles

South America In-Vehicle Infotainment System Market Estimates (US$ Mn), by Sales Channel, 2019 – 2032
South America In-Vehicle Infotainment System Market Estimates (US$ Mn), Country, 2019 – 2032

Brazil
Rest of South America
Competition Analysis – In-Vehicle Infotainment System Market

Market Composition
Market Share Analysis (%), by Supplier (2022)
Company Profiles

Aisin Seiki Co. Ltd.

Business overview
Geographic presence
Product portfolio
Financial facts
Channel partners
Relevant news and strategic view

Alpine Electronics, Inc.
Aptiv Plc
BMW AG
Clarion
DENSO CORPORATION
Fujitsu Limited
Garmin Ltd.
HARMAN International
Hyundai Mobis
Marelli Holdings Co., Ltd.
Mitsubishi Electric Corporation
Panasonic Corporation
Pioneer Corporation
Robert Bosch GmbH
TomTom International BV
Conclusion & Recommendations