The packaging of liquids might seem like a fairly simple concept, but a few important factors must be considered.

Liquid packaging has the following key points that are to be kept in mind:

The viscosity of the liquid to be packaged; viscosity is defined as the measure of the resistance to flow that the fluid provides. It is the measure of the internal friction of the liquid. The higher the viscosity, the lesser the liquid form of the fluid, for instance, there is molasses or icing. Whereas, a liquid with lower viscosity, such as oil or water, will have a better flow, because it's molecular structure allows for lesser internal friction.
The fill temperatures of the fluid at the time of packaging, will affect its viscosity, which makes the temperature of the liquid to be packaged an important factor. When heated, most liquids have the tendency to flow more readily, as opposed to their fluid property when cooled down.
The particulate size of the fluid and the size of the fluids suspended particles, if any, must be considered when choosing an appropriate packaging method and material for the fluid.

The global liquid packaging market size is set to witness a surge during the forecast period, which is attributed to the increase in demand in the food and beverage, and pharmaceuticals industries. The food & beverage, cosmetics, and the pharmaceutical industries have some of the largest consumer bases globally, and these industries being the major end users of liquid packaging, the liquid packaging market stands to gain from their steady growth.

The rise in the disposable income today and the shift in lifestyle of the general masses, have affected the consumption patterns, leading to an increased demand for packaged beverage products and other FMCG products. The e-commerce platforms are also responsible for the growth of the liquid packaging Market, owing to the fact that it caters to nearly every consumer good that uses liquid packaging. Additionally, the e-commerce co-packers demand customised packaging solutions that reduce their lead time. Hence, the growth of the FMCG (Fast-moving consumer goods) industry will cause an inevitable surge in the demand for liquid packaging during the forecast period.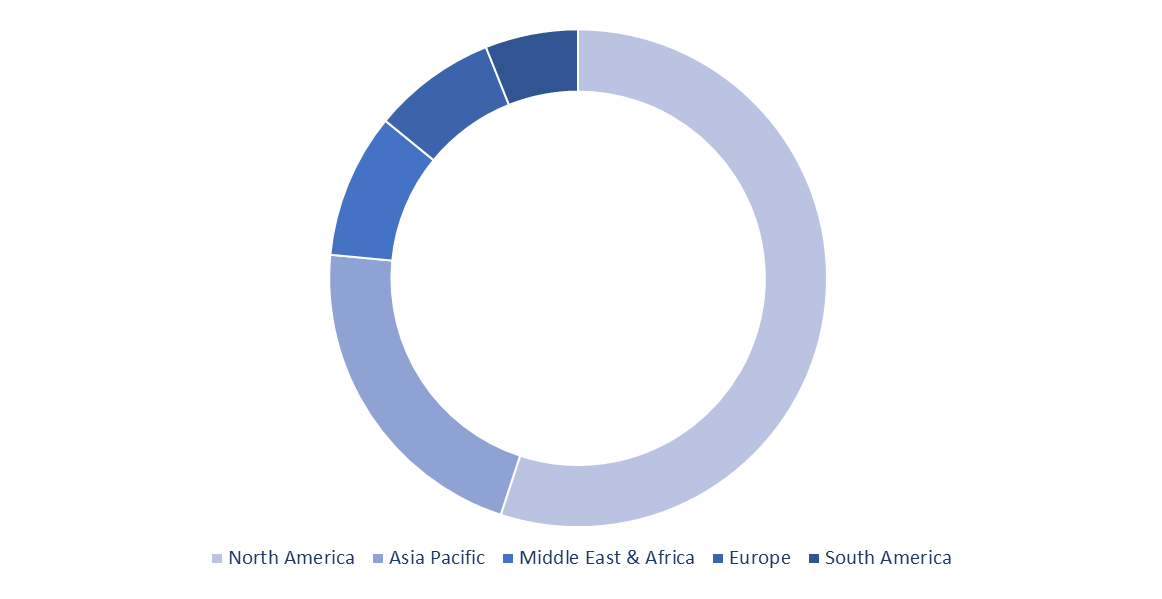 liquid packaging Market Value Share Analysis, by Geography (2022)


The report titled "liquid packaging Market - Global Market Share, Trends, Analysis and Forecasts, 2023-2032" wherein 2021 is historic period, 2022 is the base year, and 2023 to 2032 is forecast period. Additionally, the study takes into consideration the competitive landscape, wherein the report would provide company overview and market outlook for leading players in the global liquid packaging Market. Furthermore, the report would reflect the key developments, global & regional sales network, business strategies, research & development activities, employee strength, and key executive, for all the major players operating in the market.

The global liquid packaging Market is segmented on the basis of Materials, Technology, Packaging Format, End User, and geography. Based on Materials is segmented into Paperboard, Plastics, Polyethylene, Polypropylene, Polyethylene Terephthalate, Glass, Metal, Others. Based on Technology is segmented into Aseptic liquid packaging, Blow Molding, Form Fill Seal. Based on Packaging Format is segmented into Flexible, Films, Stand-up Pouches, Bag-in-box , Rigid, Carton, Paperboards, Bottles, Jars, Cans and Tubes. Based on End User is segmented into Food & Beverage, Personal Care, Pharmaceutical, Household Care, Industrial, Others. Based on geography is segmented into North America, Europe, Asia Pacific, Middle East & Africa, and South America. North America is sub-segmented into the United States, Canada and Rest of North America. Europe is sub-segmented into Germany, United Kingdom, Belgium, Spain, and Rest of Europe. Asia Pacific is sub-segmented into China, Japan, India, Australia, and Rest of Asia Pacific. Middle East & Africa is sub-segmented into Saudi Arabia, the UAE, and Rest of Middle East & Africa. South America is sub-segmented into Brazil and Rest of South America.

The research provides in-depth analysis of prominent players holding majority share of the global market with a focus on all operating business segment and would identify the segment of the company focusing on liquid packaging Market. Further, market share of prominent companies in the global liquid packaging Market would also be estimated. The study takes into consideration the key competitive information such as business strategy, product portfolio, key development, swot analysis, and research and development focus of all the liquid packaging companies. The global liquid packaging Market study would take into consideration the participants engaged throughout the supply chain and value chain of the market, along with their contribution. Product portfolio would focus on all the products under the liquid packaging business segment of the company. Similarly, the recent development section would focus on the latest developments of company such as strategic alliances and partnerships, merger and acquisition, new product launched and geographic expansion in the global liquid packaging market.

Major players active in the global liquid packaging market include Amcor Limited, Berry Global, Constantia Flexibles, Gerresheimer AG, Goglio S.P.A., MONDI Plc, ProAmpac, Reynolds Group Holdings Ltd., Sealed Air Corporation, SIG Combibloc Group Ltd., Smurfit Kappa, Sonoco Products Company, and Tetra Laval.

The liquid packaging Market is Segmented as Follows:

By Materials
Paperboard
Plastics
Polyethylene
Polypropylene
Polyethylene Terephthalate
Glass
Metal
Others
By Technology
Aseptic liquid packaging
Blow Molding
Form Fill Seal
By Packaging Format
Flexible
Films
Stand-up Pouches
Bag-in-box
Rigid
Carton
Paperboards
Bottles, Jars, Cans & Tubes
By End User
Food & Beverage
Personal Care
Pharmaceutical
Household Care
Industrial
Others
By Region
North America
Europe

Germany
UK
France
Spain
Italy
Rest of Europe

Asia Pacific

Japan
China
India
Australia
Rest of APAC

South America

Brazil
Rest of South America

Middle East & Africa

UAE
South Africa
Saudi Arabia
Rest of MEA