The Global Wearable Healthcare Devices market stood at US$ 13.6 billion in 2021 and is expected to grow at 16.5% CAGR from 2023 to 2032.
Wearable healthcare devices are autonomous devices that perform a specific medical function such as heart rate monitoring, calorie burn monitoring, sweat monitoring, etc. These accessories can be worn either as an accessory or are integrated into clothing. These devices are equipped with physiological sensors, wireless data transmission capabilities, and data processing modules amongst others.

Increasing awareness amongst youngsters regarding fitness is creating new market opportunities for wearable healthcare devices manufacturers. The youngsters along with corporate employees are focusing more on the health parameters to stay fit and healthy. Companies are organizing healthcare camps such as yoga, aerobics, tournaments, and other fitness camps to create awareness among the employees.

Increasing the prevalence of chronic diseases such as diabetes, asthma, hypertension, and cardiovascular disease is creating new market opportunities for the wearable healthcare device market. These wearable devices offer a personalized experience to the consumers offering remote health monitoring without affecting the normal schedule of the individual. This has intensified the competition in the market and is expected to contribute towards the growth of the global wearable healthcare devices market during the forecast period.

North America contributed a dominating share to the global wearable healthcare devices market in terms of revenue and volume in 2019 and is expected to be dominating geography throughout the forecast period. Among the North American region, the U.S. holds the major market share among the other countries present in that region. The growing prevalence of chronic diseases such as diabetes and asthma is increasing the adoption of wearable healthcare devices across the region.

Increasing health concerns amongst the mid-aged and older groups are strengthening the wearable healthcare devices market across the region. These devices are making behavioral changes to exercise more, to be more active, track eating habits, track sleep, and manage weight amongst others. According to a press release by Fitbit, in 2017 Ireland topped the position among the fittest countries while the United Kingdom and Sweden scored the second and third positions.

Advancement of technology and telecom infrastructure across Europe is supporting the adoption of wearable healthcare devices that are multifunctional and equipped with sim cards to receive calls and receive and send text messages etc. These devices are connected to the phones and the company's community through Wi-Fi or the internet that receives the different kinds of notification based on the food intakes, workout activities, heart rate notification, and updates of the software amongst others.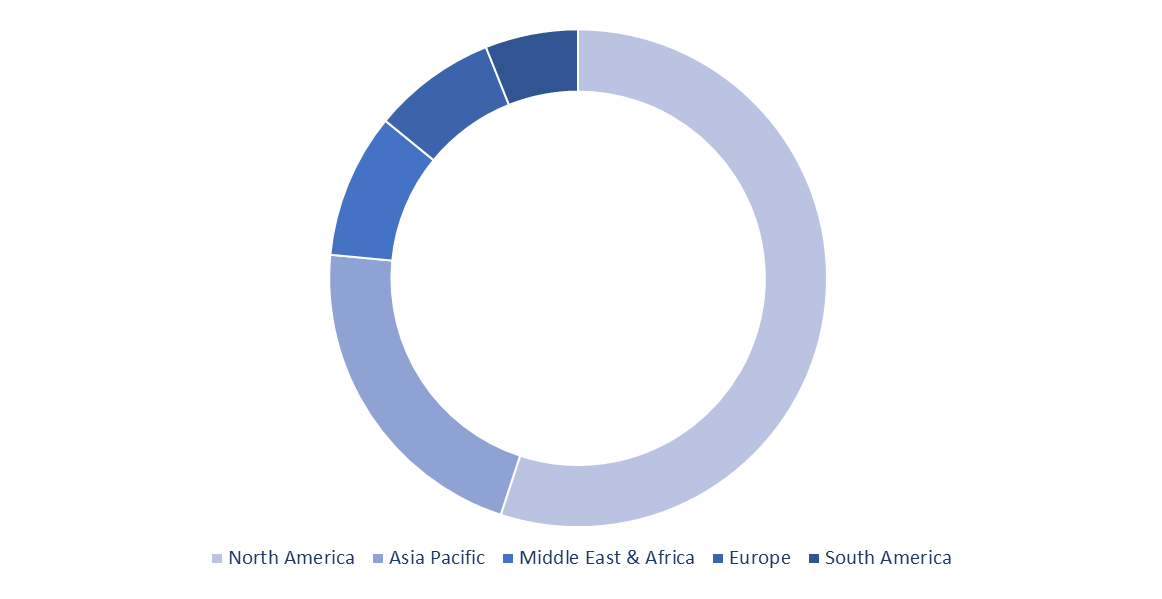 Wearable Healthcare Devices Market Share Analysis, by Geography (2022)


The report titled "Wearable Healthcare Devices Market - Global Market Share, Trends, Analysis and Forecasts, 2023-2032", wherein 2021 is historic period, 2022 is the base year, and 2023 to 2032 is forecast period. Additionally, the study takes into consideration the competitive landscape, wherein the report would provide company overview and market outlook for leading players in the global wearable healthcare devices market. Furthermore, the report would reflect the key developments, global & regional sales network, business strategies, research & development activities, employee strength, and key executive, for all the major players operating in the market.

The global wearable healthcare devices market is segmented on the basis of product, site, distribution channel and geography. Based on product, the global wearable healthcare devices market is segmented into diagnostic devices, therapeutic devices and respiratory therapy devices. Based on site of application the global wearable healthcare devices market is segmented into handheld, headband, strap/clip/bracelet, shoe sensors and others. Based on the distribution channel, the global Wearable Healthcare Devices market is segmented into offline and online distribution channel. Based on geography, the global wearable healthcare devices market is segmented into North America, Europe, Asia Pacific, Middle East & Africa, and South America. North America is sub-segmented into the United States, Canada and Rest of North America. Europe is sub-segmented into Germany, United Kingdom, Belgium, Spain, and Rest of Europe. Asia Pacific is sub-segmented into China, Japan, India, Indonesia, Australia, South Korea, Taiwan, and Rest of Asia Pacific. Middle East & Africa is sub-segmented into Saudi Arabia, the UAE, and Rest of Middle East & Africa. South America is sub-segmented into Brazil and Rest of South America.

The research provides in-depth analysis of prominent players holding majority share of the global market with a focus on all operating business segment and would identify the segment of the company focusing on wearable healthcare devices. Further, market share of prominent companies in the global wearable healthcare devices market would also be estimated.

The study takes into consideration the key competitive information such as business strategy, product portfolio, key development, SWOT analysis, and research and development focus of all the wearable healthcare devices companies. The global wearable healthcare devices market study would take into consideration the participants engaged throughout the supply chain and value chain of the market, along with their contribution.

Product portfolio would focus on all the products under the wearable healthcare devices business segment of the company. Similarly, the recent development section would focus on the latest developments of company such as strategic alliances and partnerships, merger and acquisition, new product launched and geographic expansion in the global wearable healthcare devices market.

Major players active in the global wearable healthcare devices market include Huawei Corporation., Medtronic plc, Panasonic Corporation, Siemens AG, Fitbit Inc., Koninklijke Philips N.V., Animas Corporation- Johnson and Johnson, Bayer AG, Smiths Medical - A Smiths Group Company, Owlet Baby Care, OMRON Corporation, Hoffmann-La Roche Ltd and Rest Devices Inc., Apple, Inc., Garmin Ltd, Xiaomi Technologies.

Segmentation:
By Product:
Diagnostic devices
Therapeutic devices
Respiratory therapy devices
By Site of Application:
Handheld
Headband
Strap/clip/bracelet
Shoe sensors
Others
By Distribution Channel:
By Geography :
North America

United States
Canada
Rest of North America

Europe

Germany
United Kingdom
Belgium
Spain
Rest of Europe

Asia Pacific

Japan
India
China
Australia
Rest of Asia Pacific

Middle East & Africa

UAE
Saudi Arabia
Rest of Middle East & Africa

South America

Brazil
Rest of South America