The global end suction pump market is expected to grow at a CAGR of 4.3% through the forecast period. End-of-Line Suction Pumps This market research report maintains a close watch on important competitors with strategic analysis, micro and macro market trend and scenarios, pricing analysis, and a holistic evaluation of market circumstances in the projected term.
It's a comprehensive study that looks at primary and secondary drivers, market share, leading categories, and geographical analysis. Significant actors, key collaborations, mergers and acquisitions, as well as contemporary innovation and corporate strategy are all examined in the study.

Rapid industrialization, urbanization, rising water and wastewater treatment service prices, and growing agricultural and residential sectors all contribute to the market's growth. There are two types of end suction pumps on the market: frame mounted and close coupled end suction pumps. The Frame Mounted End Suction Pump is predicted to dominate the market over the next five years due to many characteristics such as improved efficiency, reduced noise, vibration, and harshness, and prolonged seal & lower life cycle costs.

Several governments' lockdowns in the crucial financial quarters of 2020 have had a substantial influence on the end suction pump business. Limited production and supply chain difficulties have been seen as a result of government limitations, delaying the delivery of current order goods. These limits also had an impact on end suction pump sales. End suction pump manufacturers and distributors who had stockpiled them helped to overcome the demand-supply gap to some extent. End suction pump sales are increasing as industrial activity resume following the containment of COVID-19.

There are numerous options for merging data, including material from assessment papers, annual reports collected by associations, and examples and updates of the top firms in the global End Suction Pumps market. Readers will get the most up-to-date information on market trends, challenges, opportunities, industry statistics, and market share in this research. The End Suction Pumps Market provides up-to-date information on current and forecast market growth, as well as important businesses. The End Suction Pumps market report for various regions will include market opportunities, challenges, and threats. A detailed analysis of current advances, as well as manufacturers and equipment suppliers, is included in this study.

The worldwide end suction single stage pump market is divided into application categories such as pressure boosting, liquid transfer, ventilation, air-conditioning & heating, irrigation applications, and others. Because of the increased need for water for irrigation in the agriculture sector, the irrigation applications segment is likely to have the greatest share of the market throughout the forecast period. Water shortage has impacted agricultural activities significantly, resulting in a surge in demand for pumps in the industry.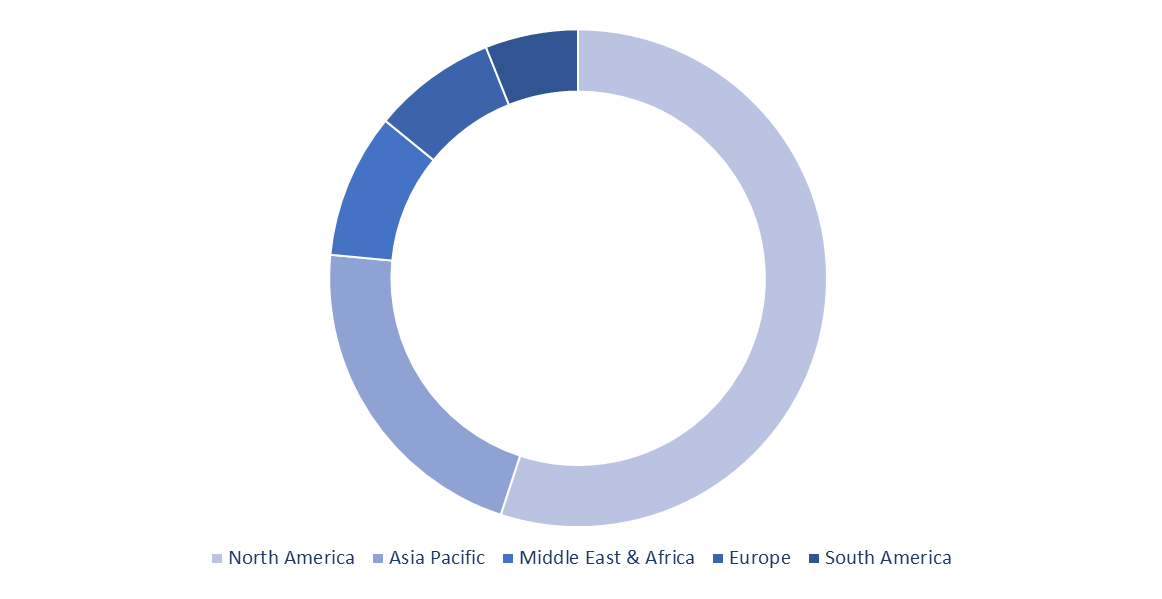 Global End Suction Pump Market- Share Analysis, by Geography (2022)


The report titled "Global End Suction Pump Market- Global Market Share, Trends, Analysis and Forecasts, 2023-2032" offers market estimates for a period 2019 to 2032, wherein 2021 is historic period, 2022 is the base year, and 2023 to 2032 is forecast period. Additionally, the study takes into consideration the competitive landscape, wherein the report would provide company overview and market outlook for leading players in the Global End Suction Pump Market. Furthermore, the report would reflect the key developments, global & regional sales network, business strategies, research & development activities, employee strength, and key executive, for all the major players operating in the market.

The goal is for mobile systems to function independently in uncertain and dynamic situations in order to complete their objectives. It is critical to examine and model the environment appropriately for this aim. To achieve precise location, the data collected by sensors must be integrated. Furthermore, the seen surroundings must be unified into a precise map representation. The robot can design an ideal collision-free path to a given target and execute difficult handling tasks after acquiring this information.

The research provides in-depth analysis of prominent players holding majority share of the global market with a focus on all operating business segment and would identify the segment of the company focusing on Global End Suction Pump Market. Further, market share of prominent companies in the Global End Suction Pump Market would also be estimated. The study takes into consideration the key competitive information such as business strategy, product portfolio, key development, SWOT analysis, and research and development focus of all the Global End Suction Pump Market companies.

The Global End Suction Pump Market study would take into consideration the participants engaged throughout the supply chain and value chain of the market, along with their contribution. Product portfolio would focus on all the products under the relevant business segment of the company. Similarly, the recent development section would focus on the latest developments of company such as strategic alliances and partnerships, merger and acquisition, new product launched and geographic expansion in the Global End Suction Pump Market.

The research offers a competitive landscape based on an in-depth analysis of the top industry competitors' key strategies in the Global End Suction Pump Market Pentair, Grundfos, Flowserve, Sulzer, Rosenbauer, IDEX, Ebara, Waterous, ITT, KSB, WILO, Darley, SHIBAURA, Shanghai Kaiquan, NFFCO, LIANCHENG Group, CNP, PACIFIC PUMP, Shaanxi Aerospace Power, EAST PUMP, ZHONGQUAN Pump, GeXin Pump.

Segmentation:
By Type:
Frame Mounted End Suction Pump
Close Coupled End Suction Pump
By Application:
By End-Use Industry:
Agriculture & Lift Irrigation
Building Services
Power
Water & Wastewater
Oil & Gas
Others
By Geography
North America

United States
Canada
Rest of North America

Europe

Germany
United Kingdom
Italy
France
Spain
Rest of Europe

Asia Pacific

Japan
India
China
Australia
Rest of Asia Pacific

Middle East & Africa

UAE
Saudi Arabia
South Africa
Rest of Middle East & Africa

South America

Brazil
Rest of South America