Flow Meter Market Size, Share, Sales, Analysis, Forecast By Type (Differential Pressure (DP), Positive Displacement (PD), Magnetic, Ultrasonic, CORIOLIS, Turbine, Vortex, and Others), By End-use Industry (Aerospace & Defense, Chemical, Pharmaceuticals, Food & Beverages, Energy & Utility, Oil & Gas, Paper & Pulp, Water & Wastewater Management, and Others), By Geography, Industry Competition & Player Profiles, 2023 - 2032
The Global Flow Meters Market size was estimated to be US$ 7.4 billion in 2019. Expanding building and construction industry, proliferation of Industrial Internet of Things, and rising demand for smart process control equipment are the key factors driving the growth of the global flow meter market. Flow meters are used to measure flow of liquids or gases across industrial, residential and commercial applications.

Expanding population and rapid urbanization has contributed towards the growth of building and construction industry, thereby pushing the boundaries of energy and utility infrastructure. Water & wastewater management and power generation facilities require robust and accurate control elements for efficient process operation.

Emergence of Internet of Things (IoT) has led the adoption of advanced technology in the flow meters. Integration of smart metering, digital readouts, and wireless monitoring and control with flow meters has fueled the growth of the global flow meter market. Expansion of oil and gas industry has created strong demand for precise flow meters owing to critical process requirements. The manufacturers of flow meters are focusing towards development of advanced flow meters to meet the increasing demand from process and discrete industries, which is expected to drive the growth of the global flow meter market.

However, prevalence of COVID-19 has led to the disruption in manufacturing processes across the globe and is anticipated to impact the demand for flow meters in coming years. The process and discrete industries are expected to regain their strength with government initiatives to boost economy and is expected to revitalize the demand for flow meters.

North America contributed the largest share to the global flow meter market in 2019 and is expected to witness prominent growth during the forecast period. Presence of leading flow meter manufacturers, expanding oil & gas industry and increased demand for flow meters from water & waste water management industry are the key factors contributing towards the growth of the North America flow meter market.

Asia Pacific is expected to be the fastest-growing region during the forecast period owing to expanding manufacturing industry across leading counties. Rapid expansion of population across major countries has fueled the growth and expansion of building & construction and energy & utility industry in Asian countries. Rising demand for wastewater treatment infrastructure across major economies is anticipated to drive the growth of the Asia Pacific flow meter market during the forecast period.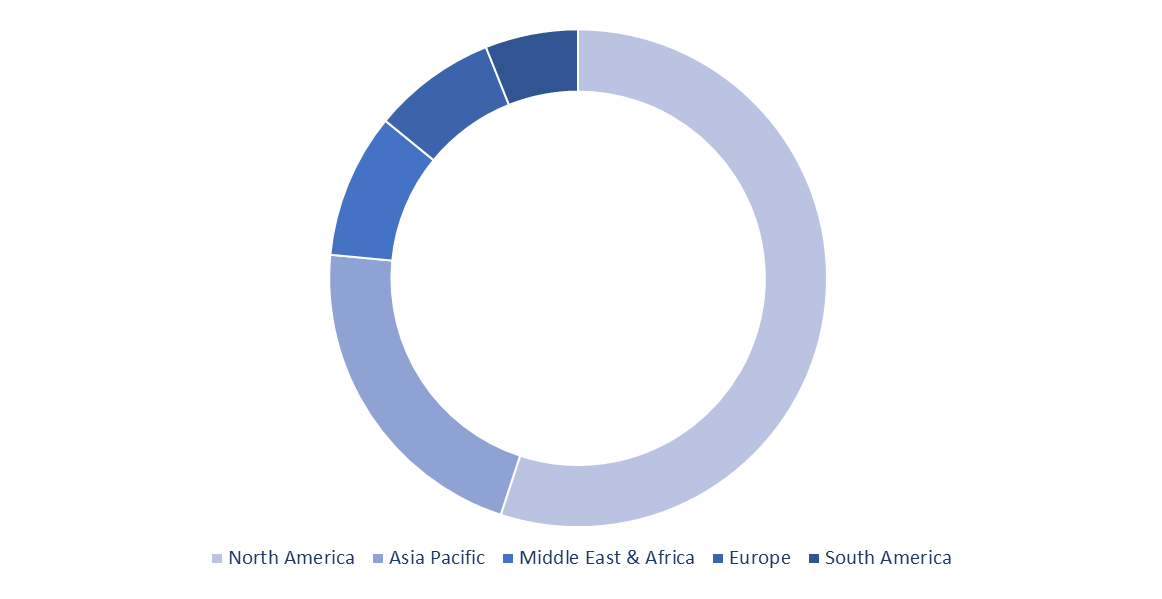 Flow Meter Market Share Analysis, by Geography (2022)


The report titled "Flow Meter Market - Global Market Share, Trends, Analysis and Forecasts, 2023-2032", wherein 2021 is historic period, 2022 is the base year, and 2023 to 2032 is the forecast period. Additionally, the study takes into consideration the competitive landscape, wherein the report would provide company overview and market outlook for leading players in the global flow meter market. Furthermore, the report would reflect the key developments, global & regional sales network, business strategies, research & development activities, employee strength, and key executive, for all the major players operating in the market.

The global flow meter market is segmented based on type, end use industry, and geography. Based on type, the global flow meter market is segmented into differential pressure (DP), positive displacement (PD), magnetic, ultrasonic, Coriolis, turbine, vortex, and others. Based on end use industry, the global flow meter market is segmented into aerospace & defense, chemical, pharmaceuticals, food & beverages, energy & utility, oil & gas, paper & pulp, water & wastewater management, and others. Based on geography, the global flow meter market is segmented into North America, Europe, Asia Pacific, Middle East & Africa, and South America.

The research provides in-depth analysis of prominent players holding majority share of the global market with a focus on all operating business segment, and would identify the segment of the company focusing on flow meter. Further, market share of prominent companies in the global flow meter market would also be estimated. The study takes into consideration the key competitive information such as business strategy, product portfolio, key development, SWOT analysis, and research and development focus of all the flow meter companies.

The global flow meter market study would take into consideration the participants engaged throughout the supply chain and value chain of the market, along with their contribution. Product portfolio would focus on all the products under the flow meter business segment of the company. Similarly, the recent development section would focus on the latest developments of company such as strategic alliances and partnerships, merger and acquisition, new product launched and geographic expansion in the global flow meter market.

Major players active in the global flow meter market include ABB, Azbil Corporation, Badger Meter, Inc., Emerson Electric Co., Hitachi High-Tech Corporation, Honeywell International Inc., HÖNTZSCH GMBH & CO. KG, KROHNE Messtechnik GmbH, Schneider Electric, Siemens, Tianjin Yihuan Automatic Instrument Technology Co., Ltd., TOKYO KEISO CO.,LTD., Toshiba, Xi'an Gavin Electronic Technology Co., Ltd, and Yokogawa Electric Corporation.

Segmentation:
By Type:
Differential Pressure (DP)
Positive Displacement (PD)
Magnetic
CORIOLIS
Turbine
Vortex
Others
By End-use Industry:
Aerospace & Defense
Chemical
Pharmaceuticals
Food & Beverages
Energy & Utility
Oil & Gas
Paper & Pulp
Water & Wastewater Management
Others
By Geography:
North America

United States
Canada
Rest of North America

Europe

Germany
United Kingdom
Belgium
Spain
Rest of Europe

Asia Pacific

Japan
India
China
Australia
Rest of Asia Pacific

Middle East & Africa

UAE
Saudi Arabia
Rest of Middle East & Africa

South America

Brazil
Rest of South America
Introduction

Research Objectives
Report Assumptions
Research Methodology
Abbreviations

Preface

Market Definition
Report Scope and Market Segmentation
Research Highlights

Market Synopsis: Global Flow Meter Market
Global Flow Meter Market Qualitative Analysis

Ecosystem Analysis

Role of participants
Integration scenario

Trends

Market trends
Technology Trends

PESTLE Analysis (For 5 prominent countries)
Market Influencers

Driving Forces
Hindering Forces
Opportunities

Installation Standards
Penetration of Smart Flow Meters
COIVD-19 impact on supply demand balance

Global Flow Meter Market Analysis and Forecast, by Type

Overview and definitions
Key segment analysis
Global Flow Meter Market Estimates (US$ Mn, Units, US$), by Type, 2019 – 2032

Differential pressure (DP)
Positive displacement (PD)
Thermal Mass
Magnetic
Ultrasonic
Coriolis
Turbine
Vortex
Others
Global Flow Meter Market Analysis and Forecast, by End Use Industry

Overview and definitions
Key segment analysis
Global Flow Meter Market Estimates (US$ Mn), by End Use Industry, 2019 – 2032

Aerospace & defense
Chemical
Automotive
HVAC
Pharmaceuticals
Food & beverages
Energy & utility
Oil & gas
Paper & pulp
Others
Global Flow Meter Market Analysis and Forecast, by Region

Overview and definitions
Key segment analysis
Global Flow Meter Market Estimates (US$ Mn), by Region, 2019 – 2032

North America
Europe
Asia Pacific
Middle East & Africa
South America
North America Flow Meter Market Analysis and Forecast

Overview and definitions
Key segment analysis
North America Flow Meter Market Estimates (US$ Mn, Units, US$), by Type, 2019 – 2032

Differential pressure (DP)
Positive displacement (PD)
Thermal Mass
Magnetic
Ultrasonic
Coriolis
Turbine
Vortex
Others

North America Flow Meter Market Estimates (US$ Mn), by End Use Industry, 2019 – 2032

Aerospace & defense
Chemical
Automotive
HVAC
Pharmaceuticals
Food & beverages
Energy & utility
Oil & gas
Paper & pulp
Others

North America Flow Meter Market Estimates (US$ Mn), Country, 2019 – 2032

The U.S.
Canada
Rest of North America
Europe Flow Meter Market Analysis and Forecast

Overview and definitions
Key segment analysis
Europe Flow Meter Market Estimates (US$ Mn, Units, US$), by Type, 2019 – 2032

Differential pressure (DP)
Positive displacement (PD)
Thermal Mass
Magnetic
Ultrasonic
Coriolis
Turbine
Vortex
Others

Europe Flow Meter Market Estimates (US$ Mn), by End Use Industry, 2019 – 2032

Aerospace & defense
Chemical
Automotive
HVAC
Pharmaceuticals
Food & beverages
Energy & utility
Oil & gas
Paper & pulp
Others

Europe Flow Meter Market Estimates (US$ Mn), Country, 2019 – 2032

Germany
United Kingdom
Belgium
Spain
Rest of Europe
Asia Pacific Flow Meter Market Analysis and Forecast

Overview and definitions
Key segment analysis
Asia Pacific Flow Meter Market Estimates (US$ Mn, Units, US$), by Type, 2019 – 2032

Differential pressure (DP)
Positive displacement (PD)
Thermal Mass
Magnetic
Ultrasonic
Coriolis
Turbine
Vortex
Others

Asia Pacific Flow Meter Market Estimates (US$ Mn), by End Use Industry, 2019 – 2032

Aerospace & defense
Chemical
Automotive
HVAC
Pharmaceuticals
Food & beverages
Energy & utility
Oil & gas
Paper & pulp
Others

Asia Pacific Flow Meter Market Estimates (US$ Mn), Country, 2019 – 2032

Japan
India
China
Australia
Rest of Asia Pacific
Middle East & Africa Flow Meter Market Analysis and Forecast

Overview and definitions
Key segment analysis
Middle East & Africa Flow Meter Market Estimates (US$ Mn, Units, US$), by Type, 2019 – 2032

Differential pressure (DP)
Positive displacement (PD)
Thermal Mass
Magnetic
Ultrasonic
Coriolis
Turbine
Vortex
Others

Middle East & Africa Flow Meter Market Estimates (US$ Mn), by End Use Industry, 2019 – 2032

Aerospace & defense
Chemical
Automotive
HVAC
Pharmaceuticals
Food & beverages
Energy & utility
Oil & gas
Paper & pulp
Others

Middle East & Africa Flow Meter Market Estimates (US$ Mn), Country, 2019 – 2032

Saudi Arabia
UAE
Rest of Middle East
South America Flow Meter Market Analysis and Forecast

Overview and definitions
Key segment analysis
South America Flow Meter Market Estimates (US$ Mn, Units, US$), by Type, 2019 – 2032

Differential pressure (DP)
Positive displacement (PD)
Thermal Mass
Magnetic
Ultrasonic
Coriolis
Turbine
Vortex
Others

South America Flow Meter Market Estimates (US$ Mn), by End Use Industry, 2019 – 2032

Aerospace & defense
Chemical
Automotive
HVAC
Pharmaceuticals
Food & beverages
Energy & utility
Oil & gas
Paper & pulp
Others

South America Flow Meter Market Estimates (US$ Mn), Country, 2019 – 2032

Brazil
Rest of South America
Competition Analysis – Flow Meter Market

Market Composition
Market Share Analysis (%), by Supplier (2022)
Company Profiles

ABB

Business overview
Management
Geographic presence
Product portfolio
Financial facts
Channel partners
Relevant news and strategic view

Azbil Corporation
Badger Meter, Inc.
Emerson Electric Co.
Hitachi High-Tech Corporation
Honeywell International Inc.
HÖNTZSCH GMBH & CO. KG
KROHNE Messtechnik GmbH
Schneider Electric
Siemens
Tianjin Yihuan Automatic Instrument Technology Co., Ltd.
TOKYO KEISO CO.,LTD.
Toshiba
Xi'an Gavin Electronic Technology Co., Ltd
Yokogawa Electric Corporation

Conclusion & Recommendations