The rare earth metals market was worth US$ 11 billion in 2019 and is expected to reach US$ 32 billion by 2030 growing at a CAGR of 10.2% through 2030.

In certain devices that people use every day, rare earth metals and alloys containing them are used, such as computer memory, DVDs, rechargeable batteries, cell phones, catalytic converters, magnets, fluorescent lighting, and so more. There has been an explosion in demand for several products that need rare earth metals over the last twenty years. Very few people owned a mobile phone twenty years ago, but today more than 5 billion people own a mobile telephone. The use of rare earth elements in computers has expanded almost as exponentially as cell phones.

Many rechargeable batteries are made of compounds from rare earth minerals. Charger demand is expected to drive market growth for portable electronic devices such as cell phones, readers, tablets, and cameras. Batteries that fuel both electric vehicle as well as hybrid-electric vehicle produce many pounds of rare earth compounds. If the selling of electric and hybrid cars is motivated by worries over energy independence, climate change and other problems, demand for batteries manufactured with rare earth compounds will grow much higher.

As catalysts, phosphors, and polishing compounds, rare earths are used. These are used for the monitoring of air emissions, illuminated displays on mobile devices, and optical-quality glass polishing. It is predicted that both of these commodities will encounter rising demand. Cerium is widely used as a catalyst in motor vehicle catalytic converters, while neodymium and praseodymium are used to make batteries for electric vehicles.
Actions have been taken by numerous companies and governments against rare earth minerals. In other countries for example, Chinese businesses have been purchasing rare earth minerals. China Non-Ferrous Metal Mining Group purchased a controlling stake in Lynas Corporation, an Australian company with one of the highest rare earth component outputs outside China, in 2010. In Zambia, they acquired the Baluba Mine. This type of initiative by companies would also affect the development of the industry.
In the national security, rare earth factors play a key role. Night-vision goggles, precision-guided weapons, communications systems, GPS devices, batteries, and other defense electronics are used by the military. It also offers an immense benefit to the military of the United States. Rare earth metals are main materials used in armored vehicles and bullets to create the extremely hard alloys that crumble upon contact.

Asia Pacific dominates the market for Rare Earth Metals
In the overall rare earth metal segment, Asia Pacific retained a higher market share in terms of both volume and value in 2019. Along with major rare earth metal processors and customers in the region, the presence of the largest rare earth reserve is projected to further raise the market demand of rare earth metals.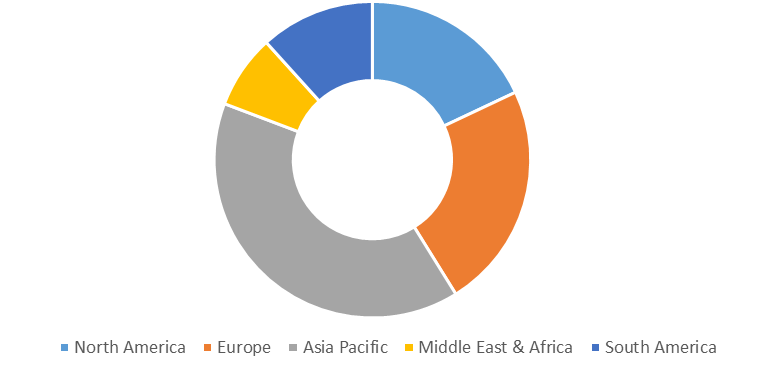 Rare Earth Metals Market Value Share Analysis, by Geography (2022)

The report titled "Rare Earth Metals Market- Global Market Share, Trends, Analysis and Forecasts, 2023-2032", wherein 2021 is historic period, 2022 is the base year, and 2023 to 2032 is forecast period. Additionally, the study takes into consideration the competitive landscape, wherein the report would provide company overview and market outlook for leading players in the global rare earth metals market. Furthermore, the report would reflect the key developments, global & regional sales network, business strategies, research & development activities, employee strength, and key executive, for all the major players operating in the global rare earth metals market.

Global rare earth metals market is segmented into metal type, application and region. On the basis of metal type, the market is segmented into lutetium, neodymium, praseodymium, promethium, samarium, scandium, terbium, thulium, ytterbium, yttrium, cerium, dysprosium, erbium, europium, gadolinium, holmium, lanthanum and others. On the basis of application, the market is segmented into magnets, colorants, alloys, optical instruments, catalysts and others.

Based on geography, the global rare earth metals market is segmented into North America, Europe, Asia Pacific, Middle East & Africa, and South America. North America is sub-segmented into the United States, Canada and Rest of North America. Europe is sub-segmented into Germany, United Kingdom, Belgium, Spain, and Rest of Europe. Asia Pacific is sub-segmented into China, Japan, India, South Korea, Australia, and Rest of Asia Pacific. Middle East & Africa is sub-segmented into Saudi Arabia, the UAE, and Rest of Middle East & Africa. South America is sub-segmented into Brazil and Rest of South America.

The research provides in-depth analysis of prominent players holding majority share of the global Rare Earth Metals market with a focus on all operating business segment and would identify and analyze the segment of the company focusing on rare earth metals. Further, market share of prominent companies in the global rare earth metals market would also be estimated. The study takes into consideration the key competitive information such as business strategy, product portfolio, key development, SWOT analysis, and research and development focusing on the Rare Earth Metals manufacturing companies. The global rare earth metals market study would take into consideration the participants engaged throughout the supply chain and value chain of the market, along with their contribution.

Product portfolio would focus on all the products and innovations regarding rare earth metals segment of the company. Similarly, the recent development section would focus on the latest developments of company such as strategic alliances and partnerships, merger and acquisition, new innovations and patent filing information and geographic expansion in the global rare earth metals market.

Major players active in the global rare earth metals market include Alkane Resources Ltd, Rising Nonferrous Metals Co. Ltd, Arafura Resources Ltd., Iluka Resources Limited, Lynas Corporation, Ltd., Greenland Minerals and Energy Ltd., Northern Minerals Limited Canada Rare Earth Corporation, China Minmetals Rare Earth Co. Ltd, Indian Rare Earths Limited, Neo Performance Materials Inc., Avalon Rare Metals, Great Western Minerals Group Ltd and others.

Segmentation:
By Metal Type
Cerium
Dysprosium
Erbium
Europium
Gadolinium
Holmium
Lanthanum
Lutetium
Neodymium
Praseodymium
Promethium
Samarium
Scandium
Terbium
Thulium
Ytterbium
Yttrium
By Applications
Magnets
Colorants
Alloys
Optical Instruments
Catalysts
By Geography
North America

United States
Canada
Rest of North America

Europe

Germany
United Kingdom
Belgium
Spain
Rest of Europe

Asia Pacific

Japan
India
China
South Korea
Australia
Rest of Asia Pacific

Middle East & Africa

UAE
Saudi Arabia
Rest of Middle East & Africa

South America

Brazil
Rest of South America